This past Memorial Day Weekend I went with friends on a tour of wineries in Western Wisconsin along the Great River Road that runs alongside the Mississippi River. We tasted some good and some not-so-good wine, and we had a great time visiting the shops that are abundant in the small towns all along the trail.
As we toured in and out of the shops and restaurants I couldn't help noticing the wide variety of interpretations of the American's with Disabilities Act implementations there were in regards to restroom accessibility. The ADA is fairly straightforward in its guidelines as to what makes for compliant design and what does not. Here are some of my favorites from our trip.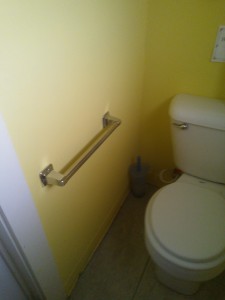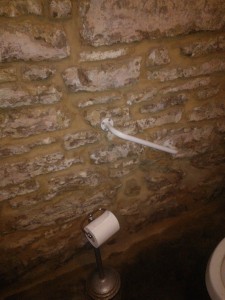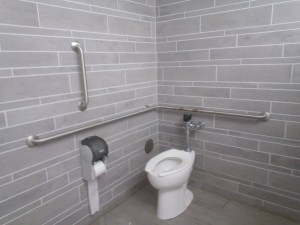 One – a towel bar does not a grab bar make.   Towel bars are not the same diameter as grab bars and consequently are not as easy to grip if one needs some added stability. Additionally, towel bars are designed to hold towels, not the weight of a person, so even if this one happened to be installed with proper backing behind the drywall, chances are it would give way if someone actually used it for support.
Two – installing at a diagonal does not count as two bars. The ADA requires both horizontal and vertical supports around a toilet. Additionally, the horizontal support needs to extend down one side and across the back of the toilet. Installing the bar at an angle does not meet the requirement for both horizontal and vertical support. Nice try, but no.
As in the first example I'm curious as to how well this bar would hold up mounting into the rough stone of an old barn if someone actually needed the support. Neither the mounting bolts nor the bar itself struck me as too stable.
Three – this restroom gets an "A". Not only have they installed all of the proper bars, they are installed in the proper locations with distances that meet ADA guidelines for spacing from floor to bar and toilet to wall. Of course, they also get brownie points for designing a nice looking restroom while they were at it.
When was the last time you were in the public restroom at your dental office? Take a look and see just how whether all of the proper bars are installed and in compliance. Adding bars is a fairly easy thing to do and will make patients with disabilities dental experience much better should they need to use the facilities while there.