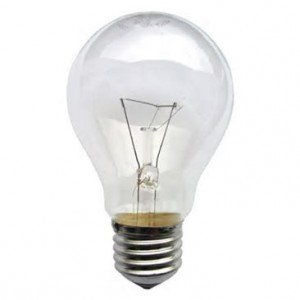 One of the critical ways to help create a memorable dental office experience is through appropriate lighting.  Good lighting design will help a space really come alive.  Lighting helps create and enhance the shadows and spots that transforms a room from ordinary to spectacular.  We really feel it is a shame that so many dental offices have given so little thought to their lighting and merely thrown in a few "cans" and overhead fluorescent fixtures.  These do nothing to create great light to work by, to create a memorable experience for patients, or to reduce the practice's energy footprint.  New regulations may help move things forward by eliminating the incandescent bulb from store shelves.
December 31, 2013 marked the last day that 40 and 60 watt incandescent bulbs could be manufactured for sale.  This follows the elimination of the 75 and 100 watt bulbs a year ago.  Incandescent bulbs only convert 10% of the energy they consume into light.  While halogen, compact fluorescent, and LED's are all still available, we prefer the use of LED's above all others.
LED's (light emitting diodes) use only 15% of the energy of a traditional incandescent bulb and less than half of a fluorescent.  Plus, they contain no mercury that can wreak havoc with the environment if not properly disposed of.  The range of colors (Kelvin) that are available in LED's is increasing daily along with the amount of light (lumens) they emit.  Given this it is easier to create a bright, sunlight true (kelvin above 3500) operatory and a warmer, yellower light (kelvin closer to 2000) in the waiting area.
"But, the fixtures are so expensive!" We hear this a lot, but mainly from contractors and not our clients, and this can be true – to a point.  A room that would require nine (9) incandescent or compact fluorescent can fixtures may require as few as five (5) LED ones.  So, not only is the dental office spending less on energy to illuminate the space they are spending less up front on total fixture and installation cost.  Sounds like a win-win to us!