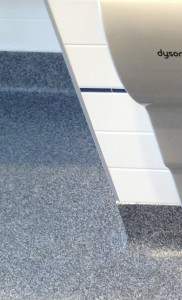 Do you need a floor that is easy to clean and easy to keep microbial free?  One of the best ways to insure both features is to get one that is seamless.  There are a couple of ways to accomplish this.  One if through a rolled vinyl material that has welded seams where needed.  Another is through using terrazzo.
There are rolled vinyl products available now that contain recycled content and provide antimicrobial properties.  Some can be seamed to a cove base to create a smooth, corner free transition from floor to wall that is easy to clean and prevents dirt attracting crevices at the edges.
This same seamless cove transition is possible using terrazzo where the base and flooring can be poured together to provide a great microbe free surface.  Terrazzo is another green option as it can readily contain recycled materials as part of the aggregate and is produced locally to the project.
Especially in surgery suites where sanitation is of added importance we recommend either of these approaches to achieving a great looking, low maintenance, sanitary floor.