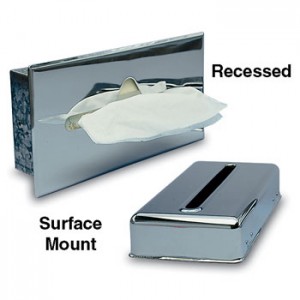 Facial tissues are such a simple thing, yet so many dental offices don't think about them. When patients walk in out of the bitter cold (think artic vortex) like so much of North America has been experiencing this winter, their eyes are watering and noses are running because of it. Having ready access to a tissue is a great thing. Not everyone remembers to always throw one in their coat pocket before leaving home.
Adding a tissue dispenser into the design of the patient restroom when designing a dental office is an easy thing. Plus, the very slight rise added cost for this convenience factor is more than offset the first time a patient keeps a scheduled appointment on a cold, blustery, Winter's day because she remembers what a great experience she had the last time she was there. After all, cancelled appointments are very expensive and are difficult to rebound from last minute.
So, even if you didn't think to install built-in dispensers during your last dental office remodel, go ahead and enhance the patient experience that you offer by going out and buying some attractive tissue holders and placing them in key spots about the office such as in the Waiting Room, Patient Restroom, and Operatories. They're amazing things.