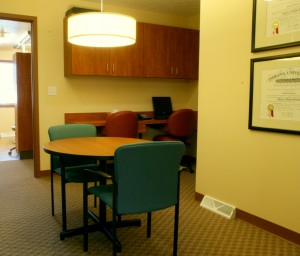 Maybe it is just a function of living in the dawn of the 21st century, but technology has reached an ever present point that incorporating it into the design of a dental office just seems natural.  By incorporating technology into the design we can improve both the operational efficiency of the office and the patient experience.  We can also reduce the energy consumption of the office making the dental practice more environmentally friendly.
We're working on two projects right now with clients to bring technology to bear in order to improve their patient experience.  While the specific details vary slightly between the two clients, the end goal is the same – both clients want to improve their presentation capabilities while meeting with patients.  Designing enhanced consultations rooms is really fun, as they pose different challenges than any other room in the dental office.  The room needs to be comfortable, safe, soundproof (or at least sound deadening), and technologically easy for the dentist or presenter to maneuver through all of the material they want to cover with the patient.  The room needs to create an environment that avoids putting patients in an uncomfortable "weak" position to the dentist so they are not on the defensive when making financial decision related to their care.  We see consultation rooms that are so frequently designed that put the dentist in a power position relative to the patient and we wonder just how much work the dentist has to do to close a sale.  Of course, seeing is believing, and with the ability to show patients exactly what is going inside their mouths through the use of digital x-rays and intraoral cameras we wonder why anyone would refuse to proceed with a recommended treatment.  However, the more comfortable the patient is during the presentation process the more likely they will move forward with the treatment plan.
We mentioned the need to be soundproof, but HIPAA demands that no one walking past the consultation room or standing outside of if should be able to learn anything about what is going on inside.  This requires careful design of the room for visual as well as sound protection of the occupants without just creating a dark, depressing cave.
We've had push back at times over the amount of square footage required to create a consultation room as many don't view this as revenue generating space.  We beg to differ.  If this is the place that larger treatment plans are reviewed and agreed upon, isn't it important to have a space that more deals are closed than in the past?