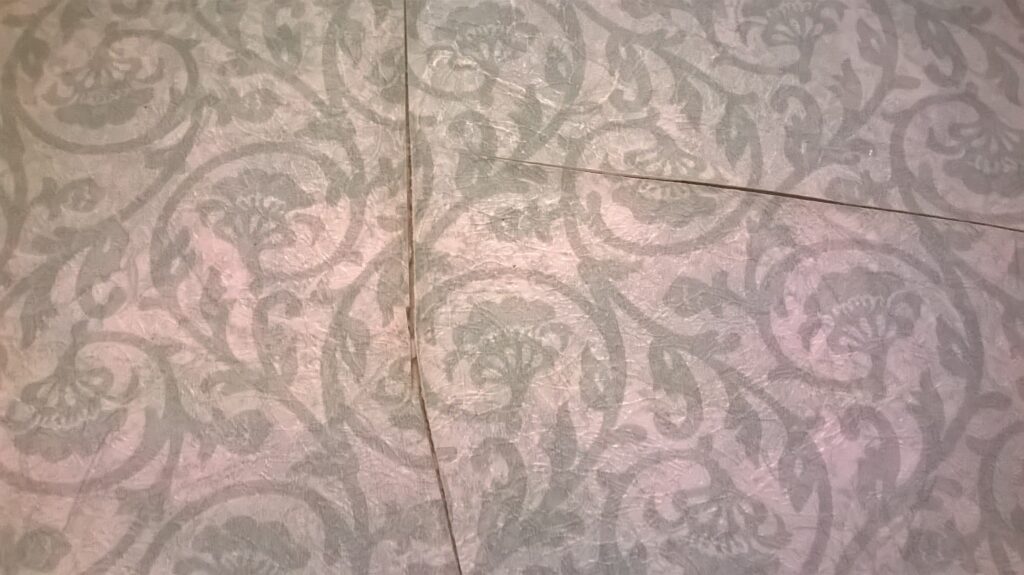 Wallpaper and other wall coverings are often employed in hotels, restaurants, and healthcare applications to offer a splash of design, color, and wear resistance not easily found in simple, painted walls. However, I am not a fan of their use, and here is why.
When first applied, especially if applied well, they can offer a very attractive pattern and a degree of increased wear-resiliency. However, once damaged they tend to become an irresistible temptation for people to pick at and play with, thus, increasing the size and extent of the damage. Once they are damaged and start to fray or peel, they take on a look of a poorly maintained property screaming the message that the owners and management don't really care about the overall guest experience. Take a look at these photos from the bathroom in a high-end, resort hotel, where I recently stayed. The edges of the wall covering are starting to peel back and it appears someone has actually cut part of the covering with a sharp object further expanding the scope of the wearing area.
The reality is that repairing wall coverings often involves replacing an entire room and not just the damaged spot. The expense for doing that is much greater than a little spackling and paint to repair a similarly damaged area on a painted wall. If the property is several years into its regular maintenance cycle, the pattern may not even be available, and if it is, the dye-lot will not be the same, thus rendering the need to replace an entire room rather than just the damaged area.
This is an affliction that is common for the whole spectrum of properties as both budget-friendly and high-end ones tend to make use of wall coverings. I once visited a property where a previous guest has written on the bathroom wall with what appeared to be nail polish or lipstick. Guests do the oddest things. When the next guest is paying $300 or more per room night, don't you think they expect an immaculately maintained space?