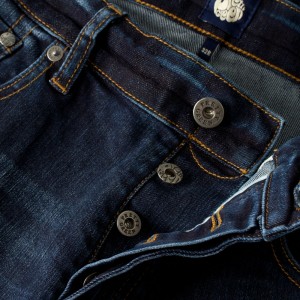 Blue.  More specifically, indigo, is a hot color right now.  Earlier we discussed that Radiant Orchid is Pantone's 2014 Color of the Year, but Indigo is definitely a hot choice right now among color enthusiasts.  The color watchers at The Wall Street journal are seeing a re-emergence of Indigo in everything from fashion to furnishings and print.
What makes Indigo such an appealing color? Think blue jeans.  Ever since Levi Strauss launched his line of jeans in the 19th century, Americans have been in love with their jeans.  Who doesn't wear a pair when they are off work and relaxing?  Heck, we're known to wear our favorite pairs until they have holes and are practically falling off of us.  If one is going to design a dental office and brand it as the ultimate in relaxed, comfortable, and friendly oral health care, what better way to capture this than by using indigo and denim as part of the décor?
The goal is to create a space that people feel comfortable coming to so they won't cancel their appointments out of anxiety and that they'll refer all of their family and friends to.  Indigo can be an excellent choice, working well against a backdrop of neutral colors from white to beige to taupe to bring a sense of calm and relaxation to the practice.  Will indigo appeal across genders?  We certainly think so. What man doesn't own a pair of jeans and have blue in his closet?